Why Mixer 1?
Mixer 1 is the tool that was missing, but now it is there.
It is a heated UV resin mixer. UV resins are becoming increasingly chemically sophisticated and need more and more attention in their preparation for printing. Mixer 1 is the perfect tool for this task. Thanks to a jet of hot blown air heats the resin very quickly, this causes the heated and fluidized molecules to mix together by making intimate contact through the gentle action of rolling. Basically a perfect blending!
Do you use different resins?
No problem, Mixer 1 can accommodate all bottles up to 260mm in length and 130mm in diameter and of any shape.
Thanks to the universal adapter, any bottle, even square ones, can be prepared for printing. The adapters can then be stored in the handy side compartment.
Don't shake, stir!
Rolling the resin bottles ensures optimal mixing without ingesting air. Therefore, it will not be necessary to wait for air bubbles incorporated by manual shaking to dissolve. In addition, letting so much air come in contact with the resin quickly impairs its quality.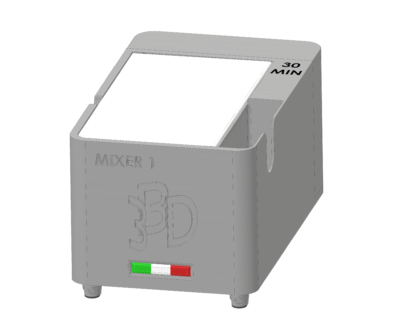 | Caratteristica | Valore | Note |
| --- | --- | --- |
| Dimensioni e pesi mixer | 19x32,5x17cm | 2,4Kg |
| Dimensioni e pesi imballo | 25x35x23cm | 3,5Kg |
| Dimensioni volume interno | Diametro MAX 130mm | Altezza MAX 255mm |
| Alimentazione | Separata 12V 5A | |
| Consumo medio | 0,025KW/h | |
| Temperatura Massima | 60°C | MAX +45°C rispetto a T ambiente |
Temperature management
The internal temperature is managed by a digital thermostat with 0.1°C accuracy. The temperature can be set from zero to 60°C with a maximum difference from room temperature of 45°C. This means that if there is 25°C in the room, the maximum temperature is 60°C, while if there is 5°C in the room, the maximum attainable temperature will be 50°C.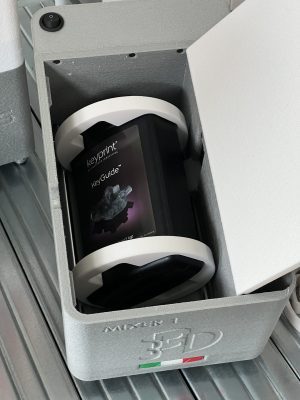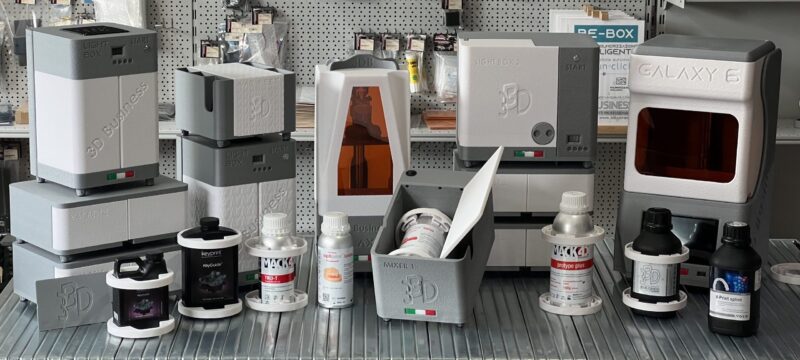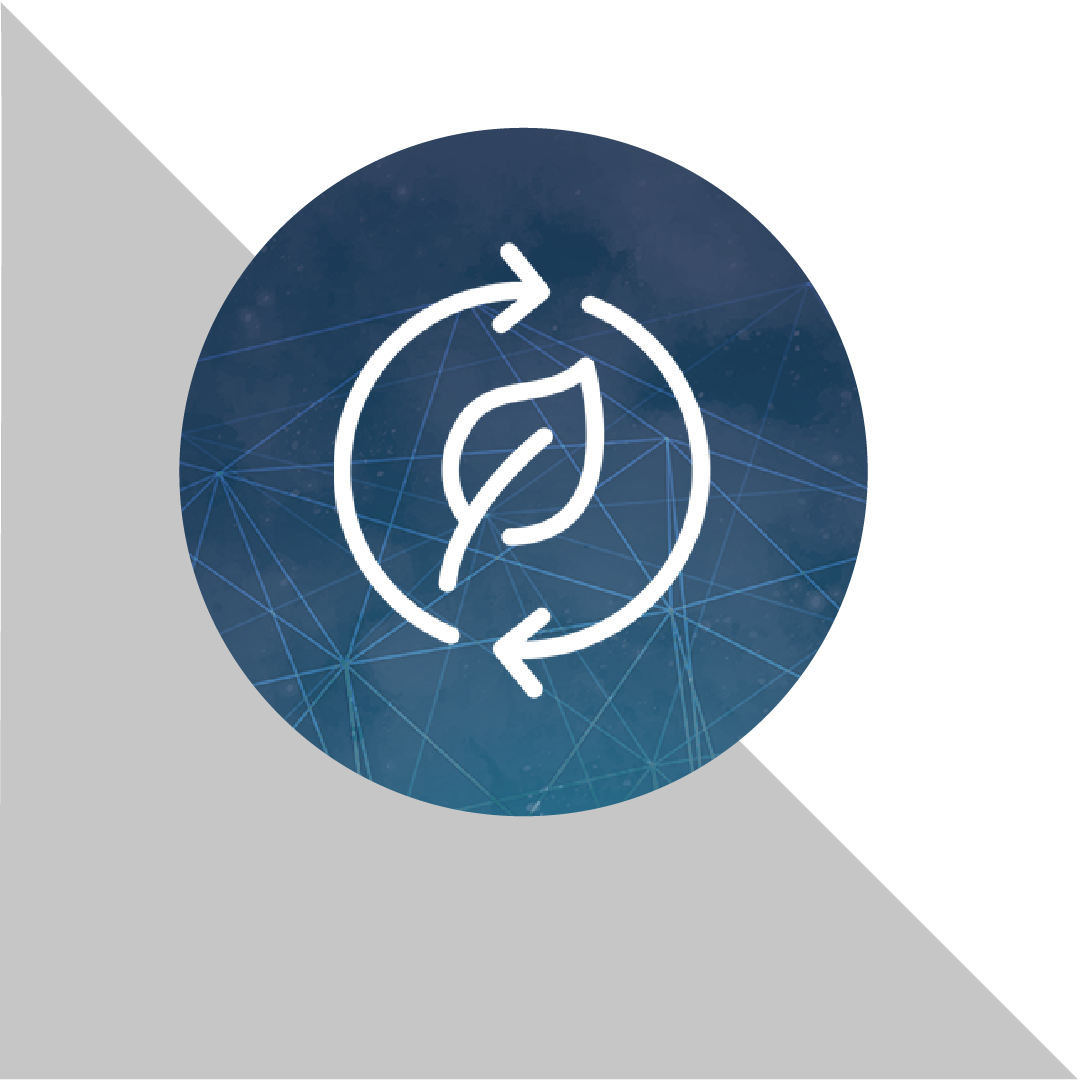 Data in hand.
L'innovazione nei processi produttivi 3D Business ha guidato a una riduzione di emissione di CO2 pari a un decimo rispetto alla produzione delle normali stampanti 3D in commercio, per un futuro sempre più sostenibile.
Lo sguardo al futuro, 3D Business. Approfondisci.
Built from other printers.
3D Business machines are born out of continuous cutting-edge research and technique with an innovative concept, contributing to a significant reduction in environmental impact. Entirely built from other 3D printers with specially developed, fully biodegradable and UV-resistant materials, the 3D Business range ensures low energy consumption and relevant thermal and acoustic insulation. This pioneering choice led to the realization of an efficient and highly optimized product in terms of reliability, compactness, and quietness. In addition, the durable and lightweight structure results in being impact-proof.