Be-Box 2 – The high-end UV booth for your laboratory.
Now also with integrated resin mixer and active heating.
The Be-Box 2 HT is an innovative state-of-the-art post-curing booth designed for the world of high-performance resin printing and for laboratories that use light-curing resins in their process.
Suitable for any type of resin , it ensures optimal performance in any design environment, where special resins, biocompatible or calcinable resins are widely used. New features introduced in the HT model, such as the active heating system and electronically controlled resin mixing mechanism, make it an essential tool even in the pre-press preparation phase.
The unique 3D Business multi-band led technical solution allows for pure and different wavelengths generated by a single Led unit.
The complex functionality of the Be-Box 2 HT can be accessed from a convenient front touch display with a comprehensive and intuitive interface that allows the user to maintain total control of the curing booth or launch automatic processes designed for a specific resin, further refined to the geometry of the workpiece to be treated.
Evolved Management Software
With Be-Box 2 HT, evolved means easy.
Using a simple wizard, complete and correct cures can be obtained immediately, thanks to the in-house resin database with continuously expanding pre-programmed processes.
For more experienced users, manual operation of the machine is also possible. In this mode, the three wavelength bands from 0% to 100% intensity can be managed completely independently, thus providing maximum flexibility. The temperature can also be set manually, and the same within the chamber is produced by optimizing the heat generated by the LEDs.
Power Slub Technology
Thanks to this patent innovation 3D Business, Be-Box 2 HT can provide 200W of power and recover the heat generated by the LEDs to maintain the hot room. The entire system is intelligently managed by a fan that can modulate its speed according to specific needs.
Advanced Design, even more power in a small volume.
The electronically controlled turntable enables uniform curing of all treated units by modulating the rotation speed automatically. An electronic sensor automatically turns off the LEDs after a few milliseconds after even accidentally opening the door.
Active Heating
The new HT version features electronically controlled, forced hot air volume heating technology.
Integrated resin mixer
The electrinically controlled double-roller mechanical resin mixer ensures the perfect preparation of resins for the printing stage.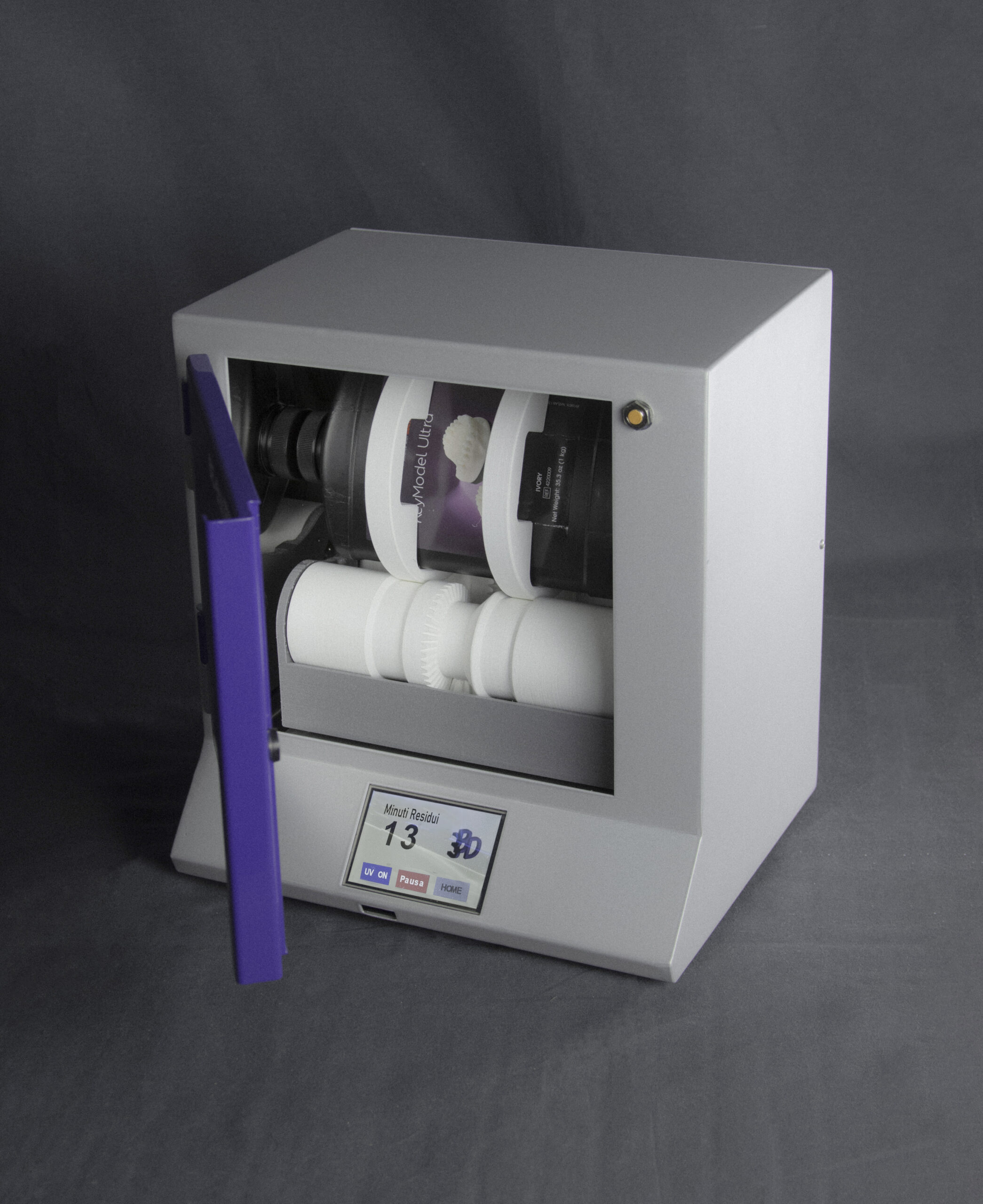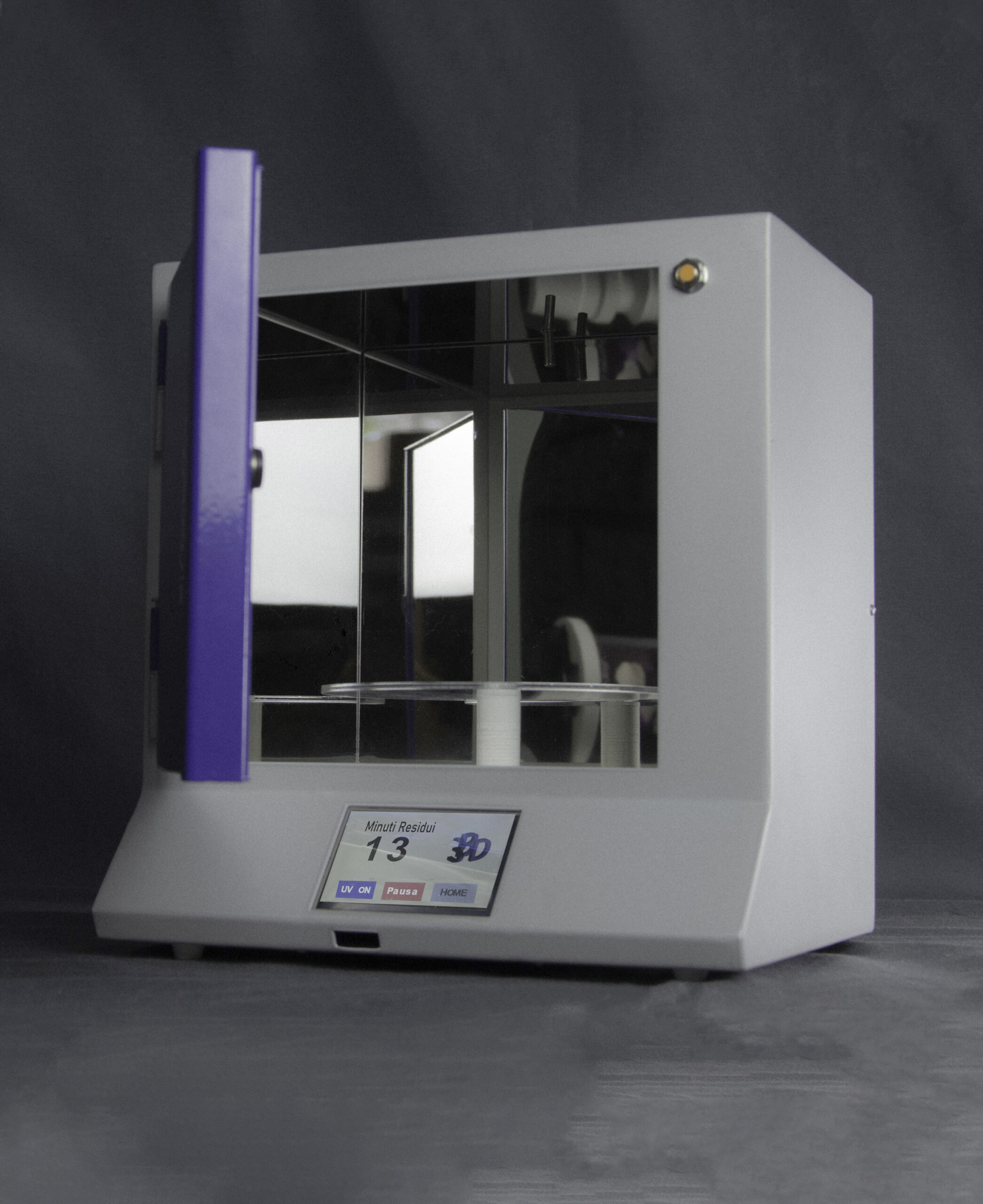 | Caratteristica | Valore | Note |
| --- | --- | --- |
| Tipologia macchina | Cabina UV di Polimerizzazione ad alta efficienza | Procedura guidata di polimerizzazione / Possibilità di funzionamento automatico o completamente manuale |
| Tipo di Polimerizzazione | Lavora su 3 lunghezze d'onda indipedenti [375][405][470] nm | Per ogni banda è possibile selezionare una potenza dal 0% al 100% in modo indipendente e continuo. |
| Display | Display Intelligente | Software aggiornambile direttamente dall'utente |
| Riscaldamento | Riscaldamento a recupero di calore a controllo elettronico | Alta efficienza energetica grazie al recupero del calore generato dai LED ad alta coibentazione |
| Potenza LED UV | 200W | |
| Raffreddamento | Ventole attive raffreddamento/riscaldamento intelligenti | Controllate via software |
| Struttura | Acciaio tagliato al laser elettrosaldato | Verniciato con bicomponente poliuretanica |
| Hardware | Scheda elettronica proprietaria con componentistica selezionata | Alta efficienza energetica grazie al recupero del calore generato dai LED ad alta coibentazione. |
| Volume Interno / Ingombro | 8 Litri/ 30x25 h30cm | Elevato rapporto volume di lavoro/ingombro |
| Supporto di cura | Tavola girevole elettronica | |
| Peso | 10Kg | |
Designed to guarantee you the best.
3DBusiness products are designed by Italian engineers and technicians to ensure the best professional printing experience for your business. Service and Support always at the highest level for all products in the 3D Business offering.