Perfect prints, ready to cure.
Regeclean is the first regenerable high-performance cleaner for 3D printing resins.
Thanks to 3D Business research today, it is possible to save 50 percent of product per treatment cycle and maintain a high cleaning efficiency rate at the same time. In fact, simply adding a top-up of product is enough to regenerate the detergent solution and start a new wash cycle.
The detergent filtering process is simple to perform, the product is completely odorless, nonhazardous and easily disposed of, provides high cleaning power as early as 25 degrees Celsius and a low evaporation index, ensuring a low operating cost per model.
Submit non-recyclable and surplus solutions to a licensed waste disposal company.
Product residues as is are to be considered non-hazardous special waste. Dispose of residues, waste or
containers used in accordance with local regulations. Reuse or Recycle if possible. If responsive,
avoid disposing of the material as liquid, avoid spills, dispose of the material as solid after
hardening carried out safely.
Contaminated packaging must be sent for recovery or disposal in accordance with regulations
National on waste management. Treat contaminated packages like the substances in them.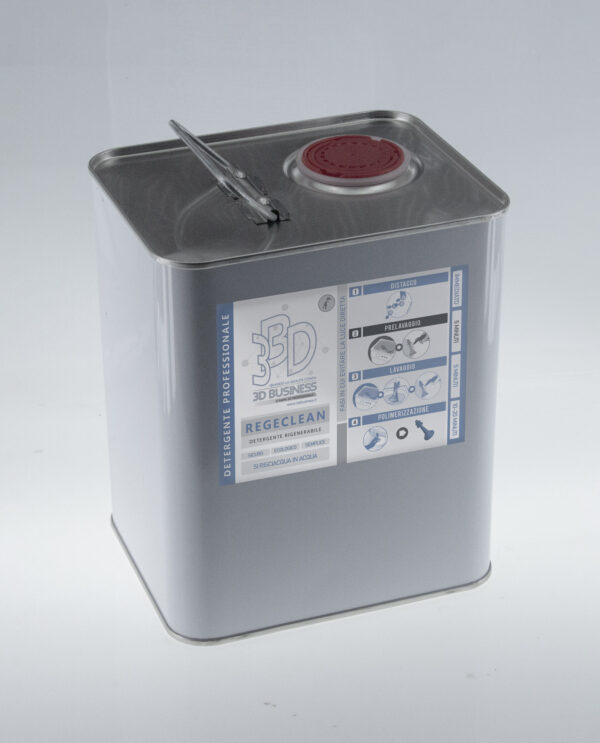 The main qualities of Regeclean detergent

The high flash point value ensures its safe use with ultrasonic machines.

Its regenerability allows 50% of the spent liquid to be reused each time.

Designed biodegradable and with low environmental impact .
See safety data sheet (SDS) for proper disposal.

Use is immediate; the product is ready to use.